Alzheimer's Disease Registry
The Alzheimer's Disease Registry is a comprehensive statewide registry of South Carolina residents diagnosed with Alzheimer's disease and related dementias (ADRD). As the nation's most comprehensive registry of its kind, the Alzheimer's Disease ("Registry") has maintained a record of diagnosed cases of ADRD in the state since 1988. The Registry comprises multiple data sources, including inpatient hospitalizations, mental health records, Medicaid, emergency departments, memory clinics, chart abstracts, vital records, and long-term care evaluations. The Registry is maintained by the OSA, in cooperation with the SC Department of Health and Human Services, the SC Department of Mental Health, the USC School of Medicine, and the SC Revenue and Fiscal Affairs Office.
The goals of the Registry are to:
Maintain the most comprehensive and accurate state registry of  ADRD in the nation
Provide disease prevalence estimates to enable better planning for social and medical services
Identify differences in disease prevalence among demographic groups
Help those who care for individuals with ADRD
Foster research into risk factors for ADRD
The Registry is an invaluable data source. It allows for aging research involving:
Types of dementia

ADRD prevention

Epidemiology of ADRD

Risk factors for Alzheimer's disease
Prevalence of Alzheimer's disease
Reports:
View the 2022 Annual Report (PDF Format) for the most recent full year of data available from all reporting sources. With partnership with the SC Alzheimer's Association, SC County Fact Sheets are now available.
Other State Registries: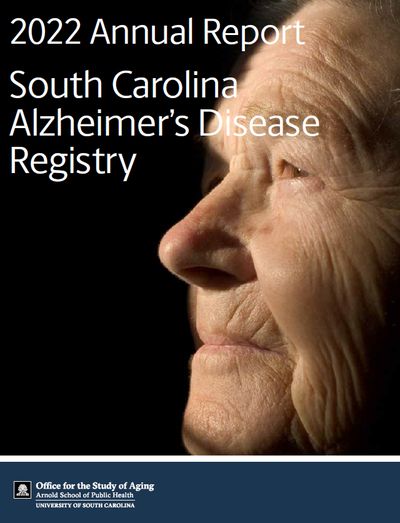 For Researchers
As time and resources permit, the Registry handles routine data requests received from state or local agencies, researchers, and the community.  These requests are handled on an individual basis and will be provided free of charge.
Request access to the Alzheimer's Disease registry data.